Vicky Riddoch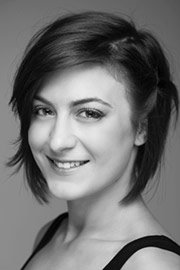 Die geborene Britin wurde im London Studio Centre ausgebildet. Sie spielte im Ensemble von Ghost das Musical (Berlin, Regie: Matthias Davids), war Swing und Cover Miss Lark in Mary Poppins (Stuttgart und Wien), Dance Captain, Cover Val und Connie in A Chorus Line (Klagenfurt), Ensemble in Saturday Night Fever (Amstetten), Ensemble in Flashdance (St. Gallen, Regie: Matthias Davids, Choreografie: Nick Winston), Ensemble in Mamma Mia!
(Stuttgart), Ensemble in Tanz der Vampire (Berlin), Mutter und Ensemble in Wicked (Scheveningen), Dominique in Lucky Stiff (London), Ensemble und Cover Snow White in Snow White And The Seven Dwarfs (Glasgow).
Außerdem war sie Tänzerin bei First Steps, Der Deutsche Nachwuchspreis (Berlin) und war in mehreren Fernsehshows zu sehen. Vicky freut sich, in der deutschsprachigen Erstaufführung von Ein Amerikaner in Paris erstmals in Linz auf der Bühne zu stehen.