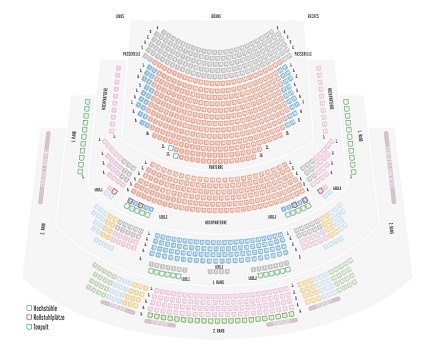 Großer Saal Musiktheater Volksgarten
Price category
1
2
3
4
5
6
7
Standing
Prices A
31,50
29,50
27,50
21,50
14,50
11,50
9,50
2,50
Prices B
49,50
47,50
45,00
38,50
28,50
23,50
11,50
7,00
Prices C
65,50
61,00
57,00
49,50
37,00
27,50
14,50
8,00
Prices D
76,00
70,00
63,50
53,50
45,50
31,50
18,00
9,00
Special prices
85,00
78,00
70,50
60,50
51,50
36,50
22,00
9,00
Premiere surcharge
9,00
8,00
7,00
7,00
6,00
5,00
4,00
–
Surcharge
Thu - Sun
3,00
3,00
3,00
3,00
3,00
3,00
3,00
–
Preise in €
Prices A selected guest performances
Prices B Unter dem Gletscher

Prices C Le Sacre du printemps (Das Frühlingsopfer), Die Entführung aus dem Serail, Carmina Burana, Il trovatore (Der Troubadour), Cinderella

Prices D Sister Act, Der Bettelstudent; Die spinnen, die Römer!; Wir sind Musical!

Special prices Le Prophète (Der Prophet), Parsifal
Cloakroom charges are included in the price of the ticket.
Prices incl. 10 % VAT
Starting time for performances at Großer Saal at 7:30 p.m. (unless announced otherwise).

Seat cushions for children
For our little visitors we provide seat cushions available for the seats at
- ground floor: row 4 - 9
- upper ground floor: row 2 (seats 7 - 32), row 3 (seats 6 - 32), row 4 (seats 5 - 32), row 5 (seats 1 - 31)
- first tier: row 1 (seats 22 - 44), row 2 (seats 11 - 32), row 3 (seats 1 - 32)
- second tier: row 1 (seats 17 - 35), row 2 (seats 11 - 33), row 3 (seats 11 - 34)

Tickets for the standing area
can be purchased 1 1/2 hours before a performance begins.
Please note that we cannot offer discounts on standing area tickets.
Smoke-free
The foyers of the Musiktheater are smoke-free. Designated smoking areas are available for smokers in the forecourt and the restaurant Das Anton.
Wheelchair spaces
Up to 22 spaces are available for persons in wheelchairs and their accompanying persons on the upper ground floor. Additional places can be arranged in the first two rows on the ground floor. Persons in wheelchairs may purchase discounted admission tickets at a price of € 10.00 each (no additional discounts possible, 50 % discount for accompanying persons).
A wheelchair accessible toilet is available. For assistance, please ask our staff, who will be glad to help.
An inductive loop system
is available in the auditorium. The ticket service can advise you on the best seats to choose.